Posts: 152
For sale is my mk2 1.6 driver 1989 in Schwartz black. I bought this car at the end of the summer of 2007. The car has covered just over 121k miles. Since buying the car I have spent a lot of money on it to keep it in perfect running order.
Some of the stuff I have done in my ownership of the car
Timing belt
Waterpump
Brand new weber carb Conversion, new rubber mounting block and throttle cable
Factory airbox removed and fitted with k&n Bolt on filter
Straight through exhaust from manifold to standard 8v backbox
16v 256mm front brake setup
New wheel bearings all round
New front pads, rear shoes and cylinders
New uprated battery
New gearbox and linkages including mk3 weighted shift rod
Full black Gti boot carpet, turret covers and space saver wheel
New heater motor and resistor pack
New distributor cap and rotor
New Genuine plug leads
Uprated audio
New fog light wiring loom
New windscreen
New fuel pump
Had painted section of front bumper resprayed due to flaking from poor prep in the past
Here is a spec listEngine
1.6L 8v engine
Weber 32/34 DMTL carburettor kit
Manual Choke
K&N bolt-on air filter
Straight through exhaust
Brakes and Suspension
16v 256mm complete front brake setup
Standard rear hub setup
Lowered on 40mm Apex lowering springs and shocks
Interior
16v GTI full rainbow interior
GTI steering wheel
Full GTI black boot carpet
Full set of original VW rubber floor mats
Exterior
Schwartz black (LO41)
Full GTI big bumper kit
16v front splitter
Badgeless Grille
Crystal clear headlights with Angel eyes
Crystal clear indicators
Clear side repeaters
Crystal front fog lights
M3 style red/clear tail lights
Lay flat rear wiper
Wheels and Tyres
15 inch Rial Viper Alloy wheels
4 x 195/50/15 Toyo T1R proxes with good thread depth
ICE
Alpine headunit with full speed ipod connection
Sony component speakers, tweeters and crossovers
Pioneer 6x9s in parcel shelf
Think thatís about all the spec. Basically just a really good car, the 1.6 engine with the weber fitted is lovely to drive, itís nippy when it needs to be, can cruise at motorway speeds, and can sit in traffic and you wouldnít even know the car is started it idles so smooth. The car holds temperature perfectly. This performance combined with the cheaper tax and insurance over a gti is an attractive quality in my opinion, especially for the younger driver.
The car has been regularly serviced by myself at intervals never exceeding 5k miles. This would always include new oil, oil filter, fuel filter, air filter cleaned with k&n cleaning kit, new spark plugs. I have changed plug leads and Fan belt as soon as they were needed. Anyone who knows me can vouch that as soon as something needs doing itís done and no money is ever spared. All mechanical work outside of servicing the car has been carried out by a local garage to a high standard; the mechanic is a VW enthusiast himself and knows his old vw very well.
Good Points
>> Cheap tax and insurance, cheap to run, all the looks of a gti without the cost to run 1!!
>> Full History of NCT including its current NCT valid until 06-10
>> Taxed until the end of May
>> Completely Original bodywork in excellent condition
>> Car is 90 spec as it was manufactured in late November 1989
>> This is a rust free car, was imported in 1992 so was saved from the dreaded salt. Underside of the car is spotless, some people have said itís the cleanest theyíve seen.
Unfortunately as with every car there are some bad points but I believe with this car the good outweighs the bad.
>>Bonnet has been chipped and lightly dented by a rock been thrown. I will have the bonnet fully resprayed prior to sale, it is unfortunate as every panel on the car is still in original paint.
>>Small bubbling around left hand wiper hole. This has always been that way and is not noticeable
>>As with age the paint picks up a few tiny marks, these do not take away from the overall great condition of the body for a 20 year old car
>>The usual bolster wear on drivers seat
Think thats about all. The only thing this car needs is someone to sit into it and drive it. Hereís a few pics:
Here she is at the NS Dubs Banbridge and Mullingar meets: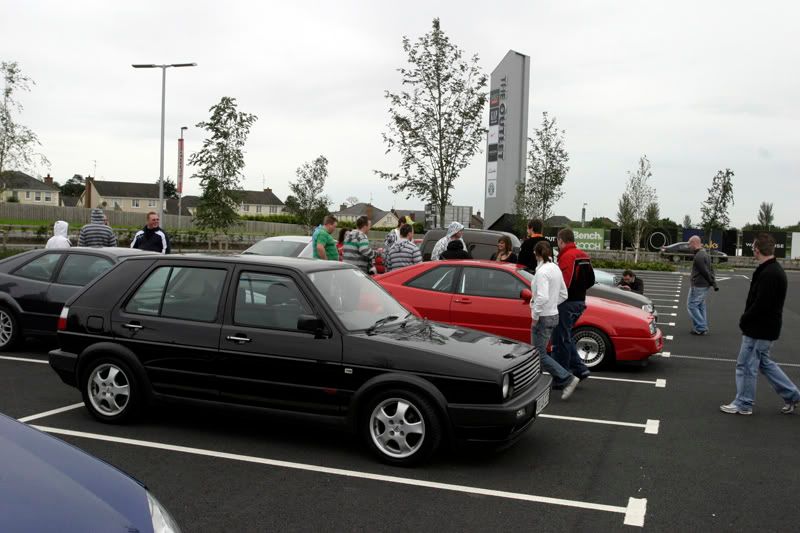 And Hereís The link to the album -
http://s227.photobucket.com/albums/dd142/D...nd2/The%20Golf/
Location
Car is located in Mullingar, Co. Westmeath
Price
Ä2,000
I wonít be letting it go for any less than that.
There is currently a subwoofer and amplifier fitted but these will be removed prior to sale and for this reason have not been included in the spec list above. The price reflects this. All wiring will be left in the car so if someone wants to add a sub and amp it will be very easy.
Pics of specific areas can be provided.
Contact via PM. Thanks for reading